Last Movies
Stanley Schtinter


With a Foreword (Programme Notes) by Erika Balsom ;
an 'Intermission' from Bill Drummond ;
& an Afterword by Nicole Brenez ...


Edited by Dominic Jaeckle
Tenement #10 / ISBN: 978-1-7393851-1-8
250pp (approx) / 140 x 216mm
Designed and typeset by Traven T. Croves

Forthcoming November 5th 2023



What is a society that values
nothing more than survival?


Giorgio Agamben


The cinema can kill, just like anything else.

Louis Malle
A publication, durational artwork,
and moving-image experience,
Schtinter's Last Movies, the tenth
"Yellowjacket" from Tenement Press,
remaps the century of cinema according
to the final films as watched by a selection
of its icons ...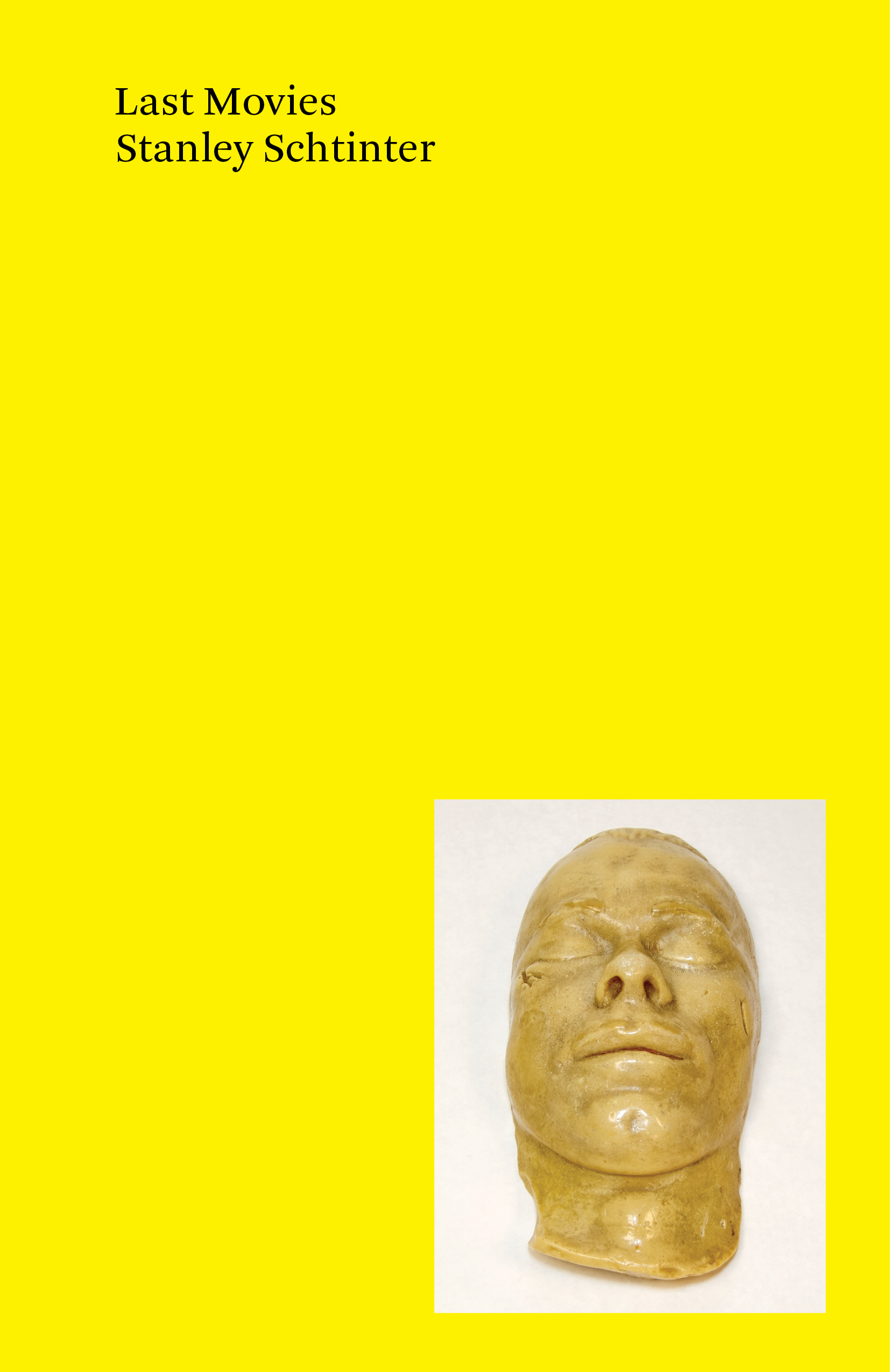 A FURNACE OF FACTS IN OUR AGE OF ENTIRETY;
A COMPENDIUM OF ENDINGS FROM THE ARTIST ...



Very strange, and deeply thought-provoking.

Laura Mulvey



Stanley Schtinter's debut collection, Last Movies, is an extensive and exhaustive research project. A holy book of celluloid spiritualism and old canards that—questioning and reconfiguring common knowledge—recasts the historic column inches of cinema's mythological hearsay into a thousand-yard stare of a book. An excoriation of the twentieth century (and our dance into the twenty-first), Last Movies antagonises the possibility of survival in an age of extremity and extinction, only to underline the degree of accident involved in a culture's relationship with posterity.









Here, we've a book in which Manhattan Melodrama is seen by American gangster John Dillinger, only for him be gunned down by federal agents upon leaving the cinema. In which Director George Cukor watches The Graduate (and dies thereafter). In which Bette Davis watches herself in Waterloo Bridge, before travelling to France and failing to make it back to Hollywood. Rainer Werner Fassbinder watches Bette Davis in Michael Curtiz's 20,000 Years in Sing Sing, and suffers the stroke that kills him. In which John F. Kennedy watches From Russia with Love at a Palm Beach private screening prior to the presidential motorcade reaching Dealey Plaza; in which Burt Topper's War is Hell exists only in a fifteen-minute cut, considering this is as much as Lee Harvey Oswald would have seen at the Texas Theatre in the wake of JFK's killing.

Like Hermione Lee "at the movies," and redolent of the works of Kenneth Anger, Schtinter's Last Movies is enamoured by the ludicrousness of a swan song that lingers on in a world still trying to sing. Rather than a book dedicated to the effects of cinema on society, this is a collection of writings predicated by a dedication to cinema. Last Movies is a love letter to those that've lived (and died) amidst the patina and glow of cinema's counterpoint to life (as lived) via a haphazard index of twenty-eight of its notable audience members.

This edition also includes progamme notes (from a marathon screening), 'Towards the Last Movies,' by Erika Balsom—an afterword / last word(s) from Nicole Brenez—and an intermission from Bill Drummond.


A BIG, BLACK GLOW-IN-THE-DARK HARDBACK
EDITION—AVAILABLE IN A LIMITED RUN—IS FORTHCOMING
FROM PURGE.XXX & TENEMENT PRESS : SEE HERE ...
For all and any questions, queries,
or press enquiries regarding Tenement's catalogue,
address all correspondence to Dominic Jaeckle
at

editors@tenementpress.com

.
At the Movies …

The Last Movies raises the status of the film programme
to that of monumental artwork. Mortality and the movies
are now unarguably one: death and life 24 times a second.

Gareth Evans


Negotiating between the worlds of the living and the dead—as does cinema—Schtinter's roving programme, 'Last Movies,' gives an audience the opportunity to "see what those who see no more last saw" via an international durational moving-image experience.
29.04.23-30.04.23 Toward the Last Movies
(A day & night screening.)


Batalha Centro de Cinema

See here
Porto, Portugal


Programme


04.11.23-05.11.23 Last Movies
(A day & night screening.)


Light Industry

+

Spectacle

+

Nitehawk


New York City, NY



22.11.23 Last Movies (A book launch & screening.) †


The Institute of Contemporary Arts




London



† The first instalment in a monthly series.





Last Movies brings together its selections by the force of an external event, one which bears not on the films themselves but on little-known details of their exhibition histories, and then orders them not according to any curatorial vision but by date of disappearance. It abandons all those calcified criteria most frequently used to organise cinema programmes: period, nation, genre, director, star, theme. Nothing internal to these films motivates their inclusion, their "quality" least of all. Although Schtinter can choose a death to research, the title to be shown is dictated by history. This is all to say that Last Movies embraces chance, an avant-garde strategy its orchestrator has been known to marshal in previous undertakings.

And so it should be for a programme about death. The tenacity of the "life review" flashback as a trope in fiction films could be attributed to the fact that people who have had near-death experiences claim to have encountered the phenomenon. It is more likely that this convention endures because it satisfies a reassuring fantasy: that life will ultimately attain coherence. The fantasy of that "last movie" is undone by the reality of Schtinter's Last Movies. They are often random and in large part unchosen; they throw significance into crisis and demand acquiescence to externality. They are, in other words, like death itself.
Erika Balsom


Praise for Schtinter's
Tenement title, the second entry
in the "Yellowjacket" series
The Liberated Film Club


Schtinter runs with wolves. His Liberated Film Club was, throughout its brief, perfect existence, the antidote to contemporary cinephilia. It was impious and sexy, mysterious and unsober, a ululatory free zone for refuseniks, a place of magic and mayonnaise. If you never made it to one of its mad, baffling nights, this book is guaranteed to make your loss all the more deliciously unbearable.
Sukhdev Sandhu
Herein lies the Exquisite Corpse of The Liberated Film Club, to align in ways you never would have expected and in order to show you something new.

Matilda Munro, Sight & Sound

I'm a sucker for genre-defying "What is it?" books, and this one is further enhanced as well as complicated by chronicling a London film club that's no less eccentric and transgressive in its refusal to stand still and behave reasonably or even (on occasion) coherently. This is plainly an anarchist book designed for insiders, and I'm an outsider—or maybe one could say that this is an anarchist book designed for outsiders, and we're all outsiders interested in redefining what an alleged inside might consist of.

Jonathan Rosenbaum, Screen Slate
There are more and more curators of experimental cinema, which is great; but unfortunately still few experimental curators. Stanley Schtinter offers us a fascinating and liberating example.

Nicole Brenez

This is a chronicle of addiction, written blindfold by the light of a flickering screen to a soundtrack of Russian roulette loaded against prediction.


Brian Catling
SEE HERE
Stanley Schtinter has been described by writer Iain Sinclair as 'the last accredited activist, the last avant-garde.' He recently presented the premiere of his "endless" video-work, The Lock-In, at the International Short Film Festival Oberhausen, and exhibited the work as a solo presentation at the Barbican Centre in London during July 2022 (reviewed for The Guardian by Jonathan Jones as 'an epic film [...] spellbinding, Warholian'). From May 2021 until May 2022 he presented Important Books (or, Manifestos read by Children) at Whitechapel Gallery in London. In 2021, he published the edited collection, The Liberated Film Club (Tenement Press). Schtinter is the artistic director of purge.xxx; an "anti-" record label ("anti-" everything) wherein he curates and publishes a catalogue of sound-works, soundtracks, and collaborations.




schtinter.net




purge.xxx






Image(s)

Head,
John F Kennedy, Awake, circa 1961
(Library of Congress Prints and Photographs Division Washington D.C.)

Midriff,
Kurt Cobain, Asleep, circa 1991
(© Kirk Weddle)

Toes,
An audience assembled outside
The Biograph Theatre, July 22nd 1934