M U E U M
SJ Fowler
ISBN: 978-1-8380200-6-4
191pp / 140 x 216mm
Designed and typeset by Traven T. Croves

June 2022
FORTHCOMING 2022; A FIRST
NOVELLA FROM THE ACCLAIMED
POET & ARTIST


PREORDER
A COPY HERE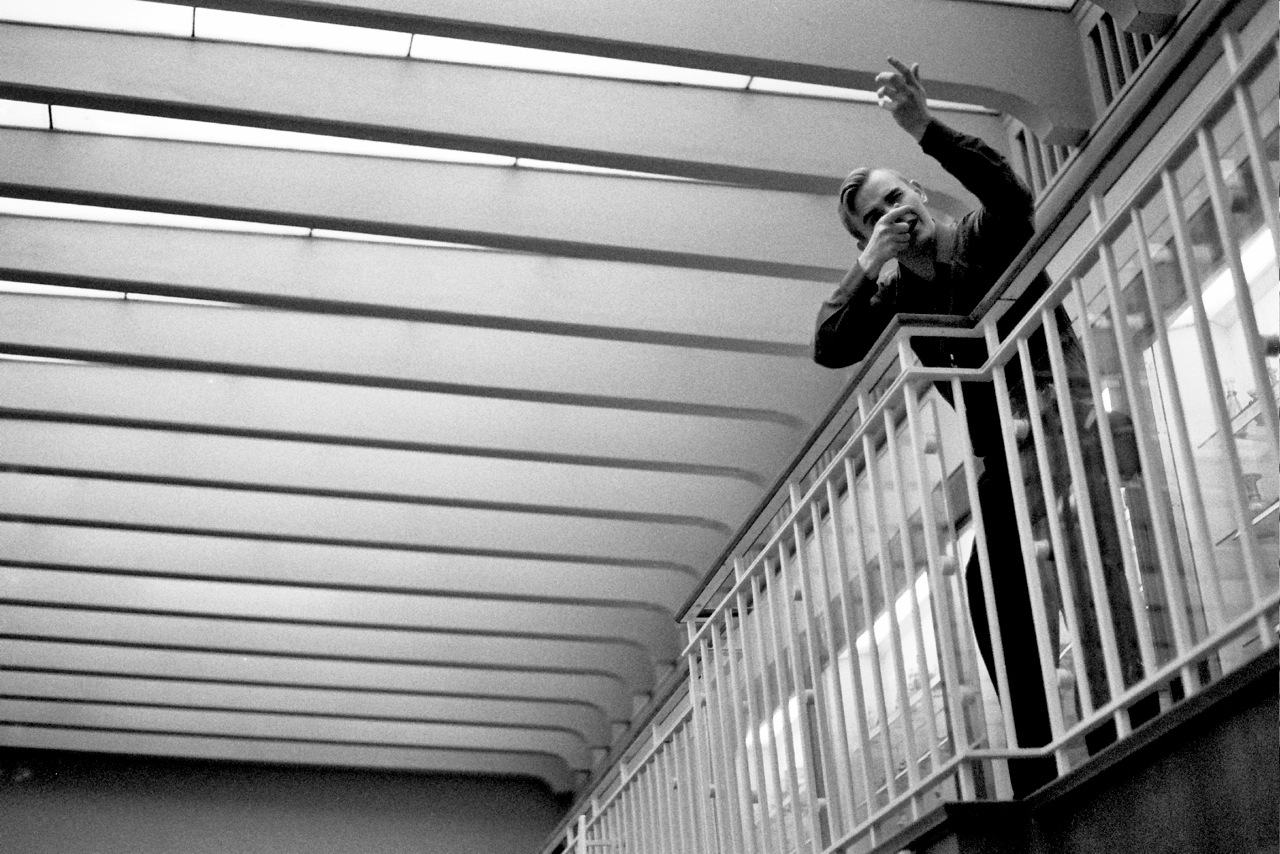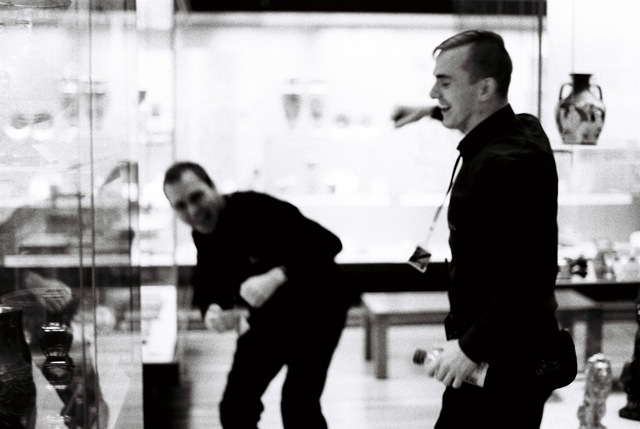 Today, as with everyday, the two giant staircases of The Great Hall are littered with the dull green ground of workers descending to their stations. Guards are spreading to their rooms. Greeters are prepping their bodies, straightening their collars, straightening their faces, and the visitor hosts, overseen by the curator, are scampering to begin their fabrications. I know what they do down there. Before I became a guard I knew. I impressed upon them I was too large and impatient for the work. I sabotaged myself. It would hurt my feelings to see the things being made. From pictures in books. From imaginations. Being visionary is no good for me. Too much mud in the water. When I get my hands on ideas, I am less steady. And I couldn't be a host, those at the other end... The ones who speak to the public. I'd harm them. In unacceptable volumes. That's why I became a guard of the galleries, though I shouldn't pretend I chose. A guard. With less requirements.
A novella of ludic menace, SJ Fowler's M U E U M is a puzzle without pieces. Following the grand tradition of the Nestbeschmutzer authors ("one who dirties their own nest," vis-à-vis Bernhard and Gombrowicz, et al), M U E U M pictures the amassing and dismantling of a public edifice, brick by brick, in prose that refracts and breaks the light emitted by history's ornaments and history's omissions.

Suspended in unknowable time there is a city; in the city, an event, a conflict. Amid the ash, fog and cloud, there is the manufacturing of a space—a many-winged museum on the make. On the plinths, exquisite remnants of life present and past—adorning the walls, portraits of gentle torture sit hand in hand with brutal and statuesque portrayals of camaraderie—and the gift-shop is littered with plastic curios and gilt revulsion. Goya, as atmosphere rather than artwork, hovers amid iron age ghosts, bronzed ideas, and antiqued anxiety.

Pacing the halls, the atrium and corridor, there are those who keep the museum—the various midwives to the building's demands—and those, like the reader, who merely visit; those who pass through the vacant galleries adrift with questions. What can I touch? What is next to Egypt? What is hidden in Mesopotamia? Where do we eat? Drink? Where is the entrance? The exit? In Fowler's curt, spiralling and acute work, the museum's keepers will answer.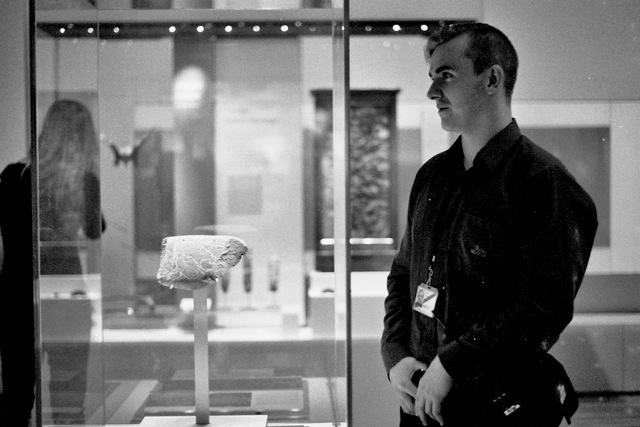 For a slither of the novel's early life,
See here ...
A SONIC ITERATION OF THIS NOVELLA
IS ALSO FORTHCOMING,
& WILL BROADCAST AUTUMN MXXII
WITH RESONANCE EXTRA
FOLLOWING

THE BOOK'S RELEASE



Fowler, during the M U E U M sessions
in the Resonance Chapel, London ...
Praise for SJ Fowler
SJ Fowler is arguably the most influential, tirelessly generative and expansively generous English artist working in experimental literature today. No other contemporary writer is as comprehensively, and ambitiously, engaged with Europe's histories of the avant-garde in addition to such vital participation in its present. Whether in poetry, essays, fiction, painting, scrawling, sculpting, film, performance, theatre, sound, or in happenings without definition, his art draws its volatile experience of language into the mobile and embodied possibility of language as experience. Emerging in feral exploration between the poetry of Tom Raworth and the prose of László Krasznahorkai, this is a shape-shifting and omnivorous body of writing; uncompromisingly alive in the playful, violent, oblique and confrontational. When language chases and inhabits the mess of living it cannot sit neatly, and only, in a book (though there are nearing 50 publications to date) there is always more.

In addition to his own work, Fowler is endlessly and inventively supporting other writers. For a singular writer-as-artist-making to support and creatively involve so many others has a rare and historic momentum: from founding and organising the vast and inclusive European Poetry Festival (whilst also teaching, editing, curating, and collaborating) to fostering truly international communities and building events that have grown and changed a generation of UK avant-garde poetry. Returning in amidst such travelling energy to the page, the reader of such unique work will encounter the disarming gristle of being-as-struggle, but they will also find the resounding depths and laughter of a strange companionship in that struggle. No other contemporary UK writer is as comprehensively, and ambitiously, engaged with Europe's histories of the avant-garde. Bracing challenge doubles mischievously as an embracing welcome within SJ Fowler's experimentation that is, at its barbed and brilliant core, a language of extreme and unfamiliar honesty.

David Spittle
Advice for living in a world gone awry. Wry, violent, contemplative, political, intimate and raucous by turns, these are poems that laze on your lap only to get their claws in. Morphing into unfamiliar shapes beneath the watching eye, these refreshing, quizzical, well-traveled poems forge a world entirely their own: they won't let you go of you easily.

Sarah Howe,
on The Guide to Being Bear Aware

Poetry in light and stone ...

Iain Sinclair, on Animal Drums,
a motion picture by SJ Fowler & Joshua Alexander;
as alluded to in Hotel #5, see here.

His work is exuberant, challenging and inclusive, and will likely be seen as a significant landmark in years to come.
Sam Riviere,
on The Rottweiler's Guide to the Dog Owner
Fowler takes a blur of our multiple selves and overlays them with geometric diagrams like secondary anatomies taken from dense literary reflex autopsy reporting. It reads like space sickness, a reality of time not space actually, a kind of insanity that's part of a contingency plan probably laid down in our genetic base millions of years ago, a chance to escape into a world beyond time. Readers are like pilots touching the ailerons and fuselage of a strange but familiar aircraft. The choice of detail is a limitless paperweight. Like someone leaving something strangled at birth on your writing desk.

Ritalin emulates binge watching the Marvel Netflix series The Punisher. He's a central avatar, existing here in total time showing us cartoon evidence for Epictetus the Stoic's aside on Zeus: "Gods submit to the laws of necessity." Punisher as forsaken mannerism. To be forsaken at such an extreme point, and yet still be love.


Richard Marshall,
on Fowler's I Will Show You the Life of the Mind
on Prescription Drugs (Dostoyevsky Wannabe), 3:16,
see here.

SJ Fowler is a writer, poet and artist living in London.

Incidentally, from December 2007 to November 2014,
he was an employee of the British Museum.
Image(s)


Top left & right, Alexander Kell, © 2014;
the skulls are stills from
Fowler & Alexander's Animal Drums,
© Joshua Alexander & SJ Fowler, 2018.